Description
SINGER 50003 Pro Series Retractable Pocket Tape Measure, 96"
---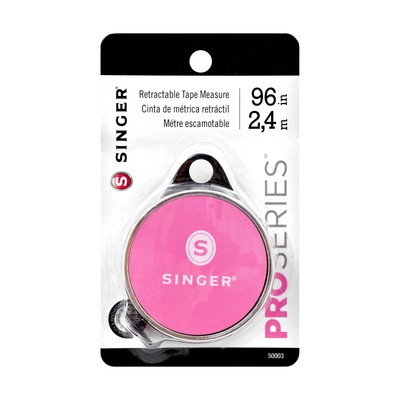 Product Details
Product Dimensions: 0.5 x 3.2 x 5 inches
Shipping Weight: 0.8 ounces
Item model number: 50003
Retractable 96-inch tape measure in compact case with keyring hole
Compact and easily transported, built to attach to a lanyard, keyring or peg
96 inches, or 8 feet long
Made of vinyl for flexibility and durability
Shows inches and centimeters
A great addition to a seamstress or tailor's toolkit, this retractable tapemeasure comes in a pink compact with a built-in ring for easy lanyard or pegattachment. Compact and easily transported, the retractable tape measure is 96inches, or 8 feet, long. Made of vinyl, it is both flexible and durable. Themeasuring tape shows both inches and centimeters for easy measuring andconverting. Its bright pink exterior makes it easy to pick out among othertools in a sewer's basic notions kit.